Cladding is a material that is used to cover the structure of a building; it can be fitted to the exterior or interior, or both! Although vertical and diagonal external cladding is becoming more widely used these days, external cladding that runs horizontally remains the most popular choice for homeowners in the UK. Today we will examine vertical external cladding and how it can be used on a garden room.
Why Clad a Garden Room?
The reasons for cladding the exterior of a garden room are varied, some people opt for cladding purely for aesthetic purposes, there are many different types of cladding on the market and it can make a great difference to the appearance of your garden room. Another reason for the external cladding of a garden room is to match it to the exterior of the main house; this may be because local planning requirements dictate which cladding materials you are allowed to use. The main reason people choose to clad the exterior of their garden room is to add protection against the weather, adding insulation between the cladding and the inner walls of the garden room will help to prevent damp and keep the interior cool in the hot summer months and warm in the winter.
Why choose vertical external cladding?
Vertical external cladding has a completely different look to horizontal external cladding so if you want a stylishly clad garden room that stands out from the crowd then this is the choice for you. Vertical cladding can make a garden room look completely different to one that has the usual horizontal cladding; it can make the building appear much taller and narrower, similar to stripes on clothing. Depending upon the type of material and the colours used, a vertically clad garden room can look traditional or cutting edge, mixing the vertical cladding with areas of diagonal or even horizontal can change the look completely, resulting in a totally unique and stylish building.
Will I need Planning Permission?
Garden rooms generally fall within the rules of permitted development and you will find that this should also apply to external cladding added to a garden room; this means that you will not usually be required to apply for planning permission. However, you will most likely need to seek permission if you live in a conservation area, an Area of Natural Beauty or a National Park, this will probably also apply if your main house is a listed building. We recommend that you contact your local planning authority for advice as some areas of the UK differ from others where limitations and restrictions are concerned. It is also a good idea to speak to your neighbours about your plans as a little courtesy can go a long way in keeping neighbourly relationships on an even keel.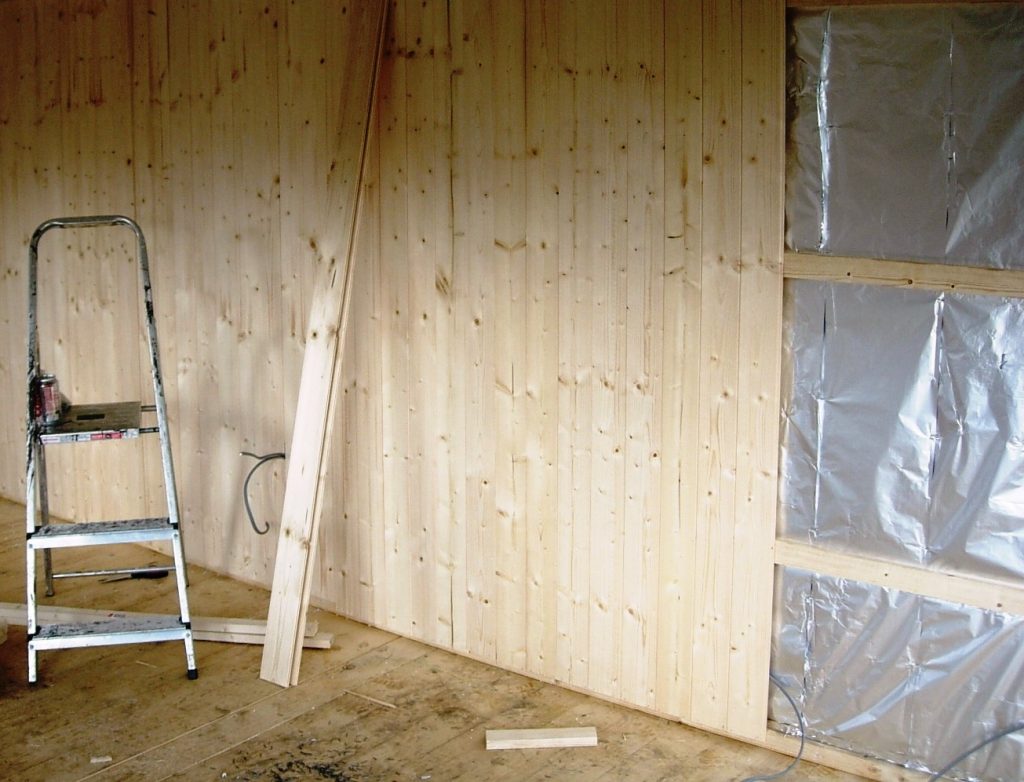 Types of external cladding
Timber
Timber is one of the most beautiful and durable types of external cladding, the softwood version is low cost and suitable for those on a budget; it can be fitted on a DIY basis. Timber cladding can be stained or painted in a shade of your choice or it can be left to weather in naturally. This type of external cladding will require regular maintenance. Heat treated timber cladding, such as Brimstone cladding, has been heated to 210°C, this reduces the moisture content and makes it much more stable. Charred Timber Cladding is also known as Shou Sugi Ban cladding and it is where the surface of the wood is scorched with a blowtorch to blacken it, this form of wood treatment has been popular in Japan for hundreds of years.
Always purchase timber cladding materials that have been sourced from Forest Stewardship Council (FSC) or Programme for the Endorsement of Forest Certification (PEFC) certified forests, this will ensure that the product you are buying is 100% sustainable.
Stone
Stone cladding is available as either modular panels or stone slips that are attached to the building; stone cladding is thicker and heavier than stone slips, which are basically a thin veneer of stone. This type of cladding can be fitted by a competent DIYer.
Brick
Brick cladding is also available in modular panels or slips that are attached to the building, brick slips are a thin veneer of brick. This type of cladding can be fitted by a competent DIYer.
Weatherboard
Weatherboard cladding is available in a variety of materials, including composite timber, PVC and aluminium, this type of cladding can be installed on a DIY basis.
Fibre cement
Fibre cement cladding is made of cellulose, fibres and fillers with water and cement added, this is rolled into sheets and pressed to remove moisture. This type of cladding can be installed on a DIY basis but you may require specialist tools.
uPVC
uPVC cladding is made from cellular PVC with an outer skin of UV resistant titanium dioxide, it is available in a huge range of colours and timber effects and can be one of the best budget options. It is lightweight and easy to fit on a DIY basis. The cheaper versions can become discoloured over time.
Vertical tiling – also known as hanging tiles
Vertical hanging tiles are available in concrete, clay or the larger porcelain versions. These tiles are often fitted in a contrasting colour to the roof tiles and hung in a decorative pattern, they are more commonly found in the South East of England. It is possible to fit vertical hanging tiles on a DIY basis by a competent person.
Vertical external cladding can be a great alternative to the more traditional horizontal version; however, it is important to ensure that the joints are properly sealed to avoid water ingress during heavy or driving rain.
Always wear Personal Protective Equipment (PPE) and use the correct tools. When working at height always use scaffolding to form a working platform, ladders should only be used for access to that platform. Follow any fitting or installation instructions to the letter and seek advice from a professional when necessary.
Special thanks Western Design Architects for providing the image