The home gym has always been popular, with no membership fees being the main reason, along with preferring to work out without people fitter, stronger or slimmer watching you. If you don't own a large home then finding space for gym equipment can be a real problem, a garden room gym could be the answer, design it to suit your needs and work out at your leisure, no rush and no onlookers.
A bright, airy space with large windows and bi-folding doors make a perfect garden room gym, simply fold back the doors and open the windows for a great work out in the fresh air. Natural wood flooring with matting is great for exercise equipment and floor to ceiling mirrored walls help you keep an eye on your progress.
Your home gym should be well insulated to keep it cool in the summer and warm during the cold winter months, air conditioning should be considered and heating is a must. A living sedum roof will provide very good insulation and also attract wildlife to your garden, a benefit for all.
An important point to remember when designing your garden room gym is that the weight of your equipment needs to be taken into consideration as you may need a reinforced floor structure.
This spacious room is bright and airy with clear walkways between the gym equipment, the ceiling fan or opening the double doors will help keep you cool during work outs.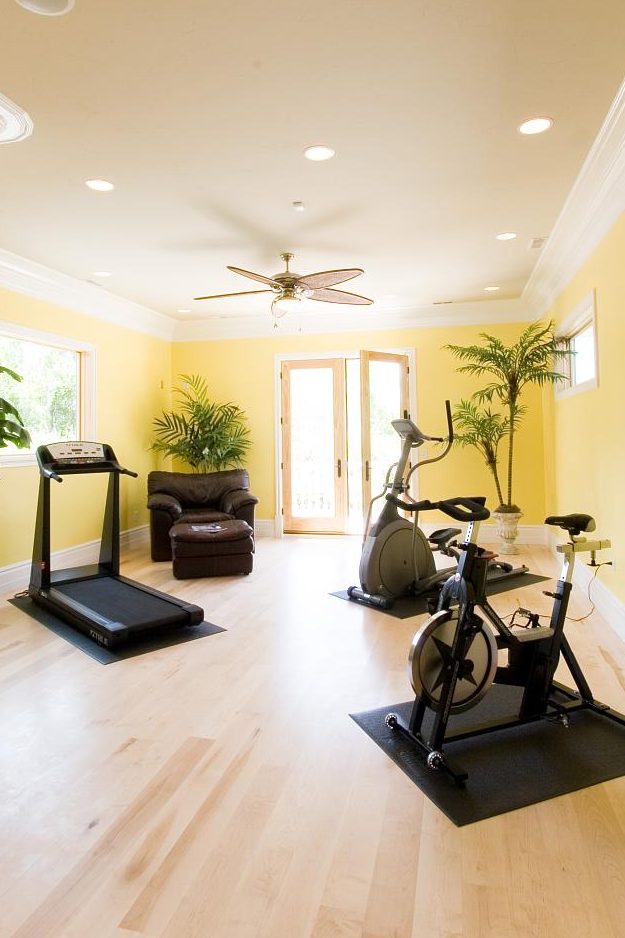 ---
This is a great example of a garden room suitable for a gym; wooden floors and mirrored walls with good overhead lighting, even a TV on the wall so you can keep an eye on the news whilst working out. The large windows will let light flood in, also a much needed breeze during the summer.