Bi-folding doors fitted in your garden room will immediately give a much more contemporary feel to the whole building; using bi-folding doors in your garden room can allow light and fresh air to flood in, giving the whole garden room a feeling of welcoming space. The popularity of bi-folding doors has soared over recent years and their popularity continues to rise, partly because they look gorgeous but also because they are robust, reliable and reasonably quick to fit. This versatile style of door is widely used as exterior doors, thus making the bi-folding door the perfect option for garden rooms. The bi-folding door adds modern appeal and a spacious feel, unlike many more traditional doors; bi-folding doors may well be the right choice for your garden rooms because they are versatile, attractive, and practical.
What is a Bi-folding Door?
The bi-folding door is a modern-looking type of door that can be used as an exterior or interior door. They are perfect in tight and small rooms because they take up much less space than conventional, traditional doors, this door is made from a series of panels that can be folded up against the wall. Bi-folding doors are incredibly convenient and efficient doors, they provide easy access for people going in and out of the room. Also, they are practical and add a contemporary modern look to your garden room, if you want to save space in your garden room, then the bi-folding door is the right door for you.
A bi-folding door is an amazing alternative to sliding doors or traditional French doors, they are chic and trendy but unfortunately that can also mean that they can be costly compared with traditional doors. Bi-folding doors are popular to use in garden rooms or extensions in the United Kingdom and it is no surprise that so many people have upgraded their original ugly sliding doors to these modern, good looking doors. They are the perfect door for a garden room, a door that is practical and energy efficient, but most importantly, space saving.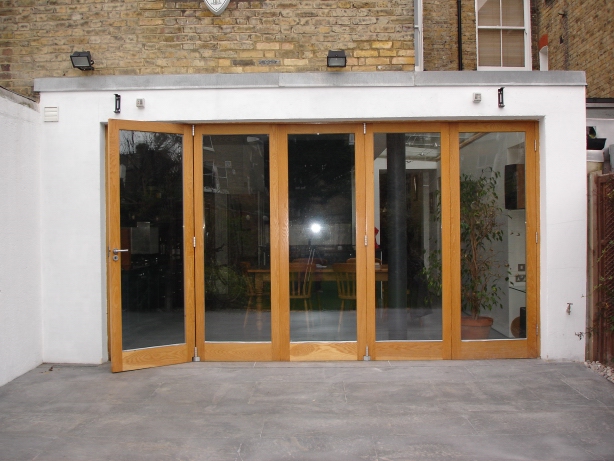 Benefits of Garden Room Bi-folding doors
There are many reasons why a bi-folding door is the ideal type of door for you to use in your garden room, installing one in your garden room will add space and style to the room. This door is rapidly becoming the most popular door to be fitted in many homes in the United Kingdom and they are a great addition to any home. They are efficient and convenient to use and they provide a contemporary touch of luxury that is perfect for both large and small garden rooms. If you have been thinking about installing bi-folding doors in your garden room, read our list of their benefits below.
Versatile – The bi-folding door is a versatile door. It has a unique design that can add a luxurious and contemporary look to your garden room. It is the perfect door to use in tight spaces and small rooms like a garden room.
Saves space – Using bi-folding doors can save a lot of space because each door panel folds and neatly rests against the others when you open them.
Aesthetically pleasing – Bi-folding doors are designed so that they can be used in both large and small rooms. These sophisticated doors can add a contemporary feel to a room.
Low maintenance – Once installed correctly, this door doesn't need monthly repairs or maintenance. All you need to do is wipe the door regularly with a dash of oil to maintain their looks.
Practical – The Bi-folding door is a great type of door that is both practical and versatile. It allows people to have easy access.
Maximises natural light – One of the most noticeable benefits you can get from the bi-folding door is the amount of natural light that is allowed freely into the room. Typically, bi-folding doors are made out of specialised glass that lets the light enter from top to bottom. Whether they are open or closed, this door can provide more natural light than traditional doors.
Compact – Bi-folding doors are compact and perfect to use in a small room like a garden room, they are a great addition to your garden room because they take up very little room. This might be the perfect solution for those who have smaller spaces.
Cost-Efficient– Another significant benefit of a bi-folding door is that it is incredibly cost-efficient. You can find different brands and types on the market, each of them offering unique benefits. Once installed, you'll save money as they don't need high maintenance, although they will need regular wipe downs.
Safety and Security – Bi-folding door security features are highly regarded, this type of door is designed with a locking system and durable locking tracks that provide high security to your home or your garden room. Some might think that bi-folding doors are weak when, in fact, this is a good quality door with high-security pins and tracks that interlock when you close them.
The Disadvantages of Garden Room Bi-folding Doors
While the benefits of bi-folding doors are many, this type of door also has disadvantages. Before you decide to purchase one please continue reading below, we will take a closer look at a couple of the very few drawbacks of a bi-folding door.
Cost – although bi-folding doors don't need costly maintenance. This type of door is very complex and some high-quality bi-folding doors tend to be slightly more expensive than a traditional or more basic sliding door. If you are restricted to a tight budget, this door may not be suitable for you.
Security – you might get confused here. As mentioned above, security is listed among the benefits, but although the bi-folding door's lock system is unique and reliable, they are still made mostly of glass and glass is a fragile material that can break when smashed with hard objects.
Special Thanks Taylor Joinery for providing the image