If you dream of a place where you can fully relax, installing a hot tub in your garden room can be a perfect idea. It gives you an extra place to rejuvenate and enjoy the home spa. It also increases your property's worth and adds a bit of luxurious style to it.
Before purchasing a hot tub, you should verify if you have enough space to safely place it. You can also verify additional options that can help you to enjoy your private relaxing space even more. Keep reading to discover your options, get an idea where the best place to locate your hot tub is, learn about additional features, and discover all the benefits that the hot tub area can give you.
Location of the Hot Tub
If you have a garden building, you should first decide if you want to have your hot tub in or outside of it. This is a very important decision, and both options have their advantages and disadvantages.
If you decide to install your hot tub inside the garden room, you can enjoy it all year long. Sitting in a hot tub in the pouring rain is not nice, but relaxing in water while looking through the window at the autumn weather definitely is.
If you live in a warm climate (challenging in the UK), situating your hot tub outside can be a good idea. While being in the garden, you can feel closer to nature. This experience is going to be harder to reach if you have a hot tub in a garden room.
To find a middle ground between those two options, you can also install a hot tub beneath a canopy on the side of your garden room. This way, you can get protection from the rain, but still feel the fresh air while being outside in your garden.
Garden Room Suitability for a Hot Tub
Before purchasing a hot tub, you should verify if your garden room is suitable for it. You have to be aware of how much a hot tub is going to weigh with water. Your garden room has to have concrete slabs to keep the hot tub in place. In the case of garden rooms with a weak base, you might not be able to install a hot tub.
The second most important aspect is the ventilation of the room. Most garden rooms are constructed of wood. Humidity and wood are never a good mix; if you install your hot tub without considering this the wood is going to rot. It might not only destroy your garden room but also become a health hazard, as mould can be toxic.
Your garden room has to have a good ventilation system, you should have plenty of windows and open them once you are done using the tub to let out the steam. If the weather is good, you can leave the windows and door open even while using it.
Pay attention to the wood. You can treat it with a special product, both inside and outside, to prevent it from rotting and getting mouldy.
While picking your hot tub's size, remember to leave space in your garden room to freely and safely move around.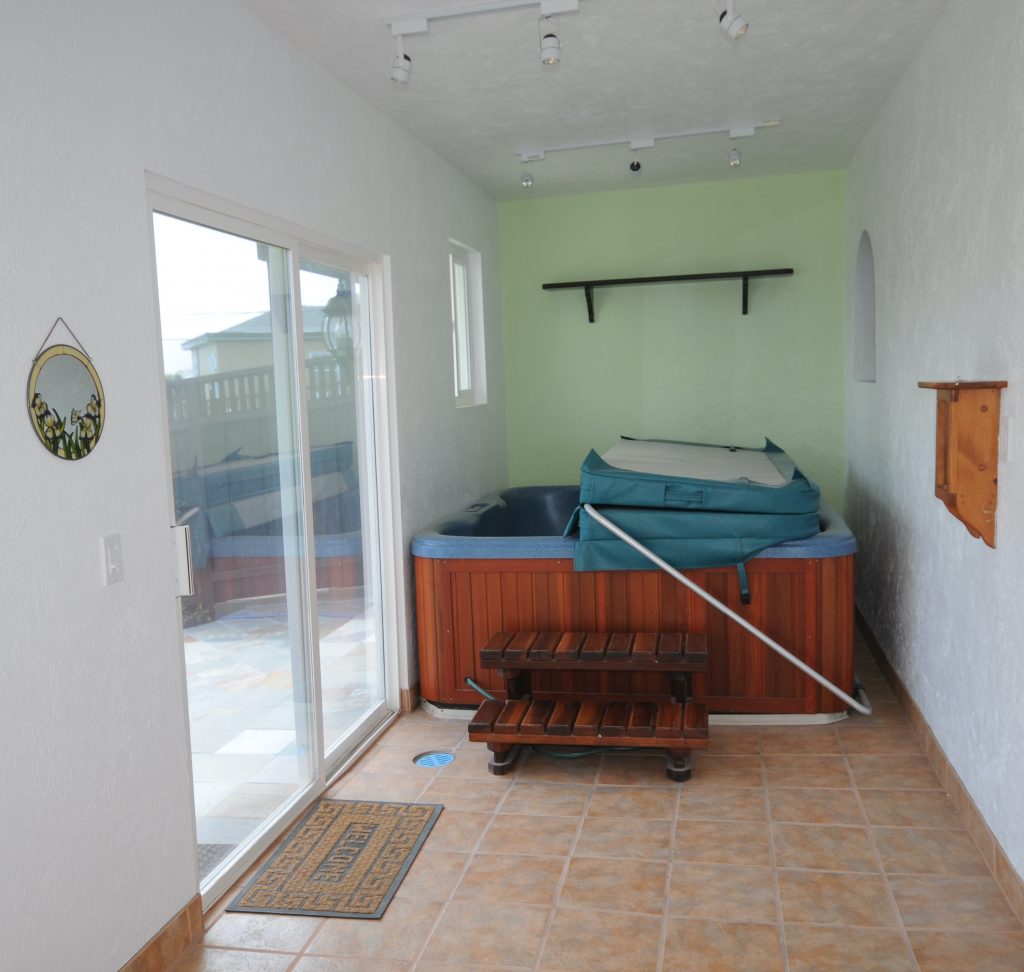 Protection of a Garden Room with a Hot Tub
When your hot tub is situated in an enclosed room, you have to remember to protect the garden room's construction. A wet environment can influence the structure and damage it if the hot tub is installed improperly.
Your hot tub is going to produce steam, you should think about the materials for the walls near the hot tub, as the walls cannot absorb water, mould can appear. You should also be aware that chlorine can corrode metal.
You should also add a wet-room floor, this will prevent falls, installing this extra safety measure doesn't have to ruin the design of your garden room. There is a huge choice on the market and wet floor and wall protection can look precisely like other materials.
Additional Features
While planning your home spa in a garden room, you might consider adding some extra features for extra comfort and relaxation. That can include a changing area or even a shower.
If you have some extra space, you can add some furniture. Sometimes including a simple table and a chair can add a stylish spark to your garden room. You can also add plants to bring nature into the room.
You should choose from plants that absorb humidity. This way, you can reduce the humidity in the hot tub room in a natural way. Choose from Boston ferns, palms, spider plants, orchids, and others to give your room a unique character.
Private Hot Tub Benefits
If you are still not sure if you want to add a hot tub to your garden room, here are some of the main benefits of having a private water space in your place:
Relax Whenever You Want To
Adding a hot tub to your garden space brings a new dimension to the meaning of the word relax. You become more willing to spend time outside and you will benefit from soaking in the invigorating hot tub warmth.
Great for Friends and Family
If you like garden parties, you are going to love this new addition to your outdoor space. As the outdoor weather doesn't matter, you can enjoy a tub with your family and friends all year long.
Conclusions
Installing a hot tub in your garden room can take up a bit of time, yet it's definitely worth it. Whether you pick the simplest hot tub or one with many features, you can be sure that creating a relaxing spot in your garden is going to bring you a lot of happy and rejuvenating moments.
Just remember about all the tips above, and you can be sure that you're going to enjoy your garden room hot tub for a long time.