Most people consider a garden room to be a completely separate building from the main house, it may only be situated a few feet away but they feel it should still stand apart to be a true garden room. Garden rooms attached to the house have actually been very popular with home owners for many years; it is often a room that links the home and the garden, often with double or patio doors to allow the fresh air in, although garden room owners tend to favour bi-folding doors these days. This article will show that a garden room joined to your house can be an extra space that your family and friends will find just as useful as a detached version.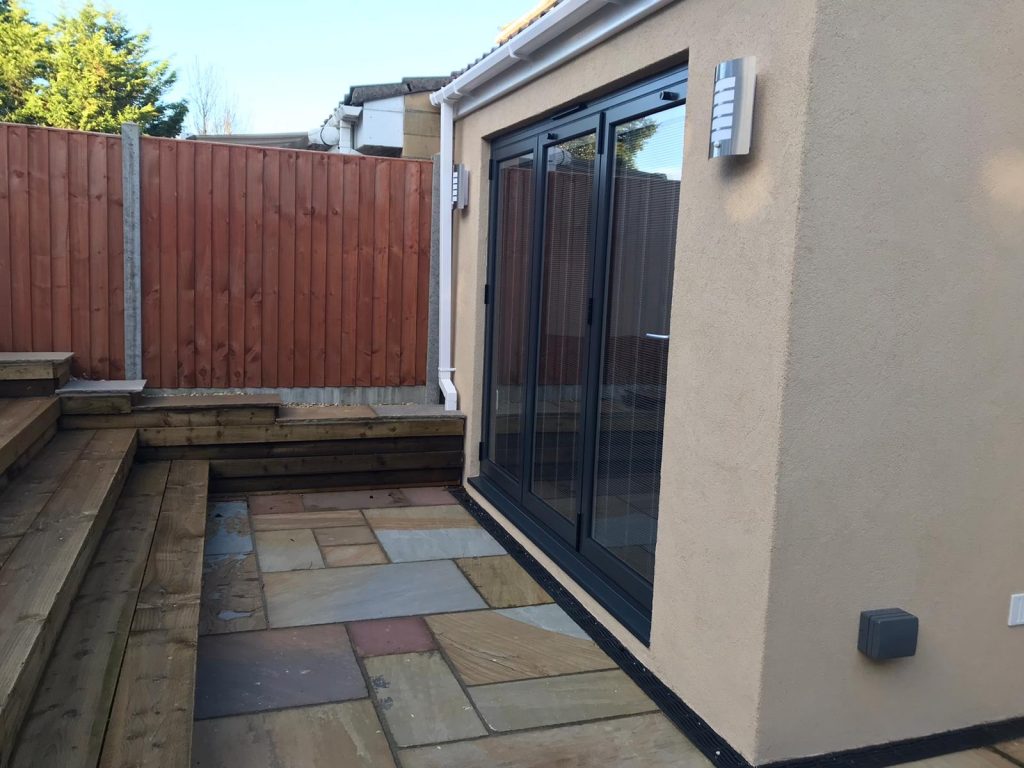 Is it a garden room or an extension?
Actually, it could be either as both are joined to the main house. An extension is usually constructed in the same style as the building it is attached to, for example, the material used for the external walls, the pitch of the roof, the type of roof covering and the design and size of the windows. The reason for this is that the extension will eventually "weather in" and match the rest of the house, when this is done well it is often almost impossible to tell if a home has been extended. A garden room attached to a house is likely to have large windows and double doors, patio doors or bi-folding doors; it could have a roof that matches the main house or one of a completely different style and it could have skylights or even a lantern roof.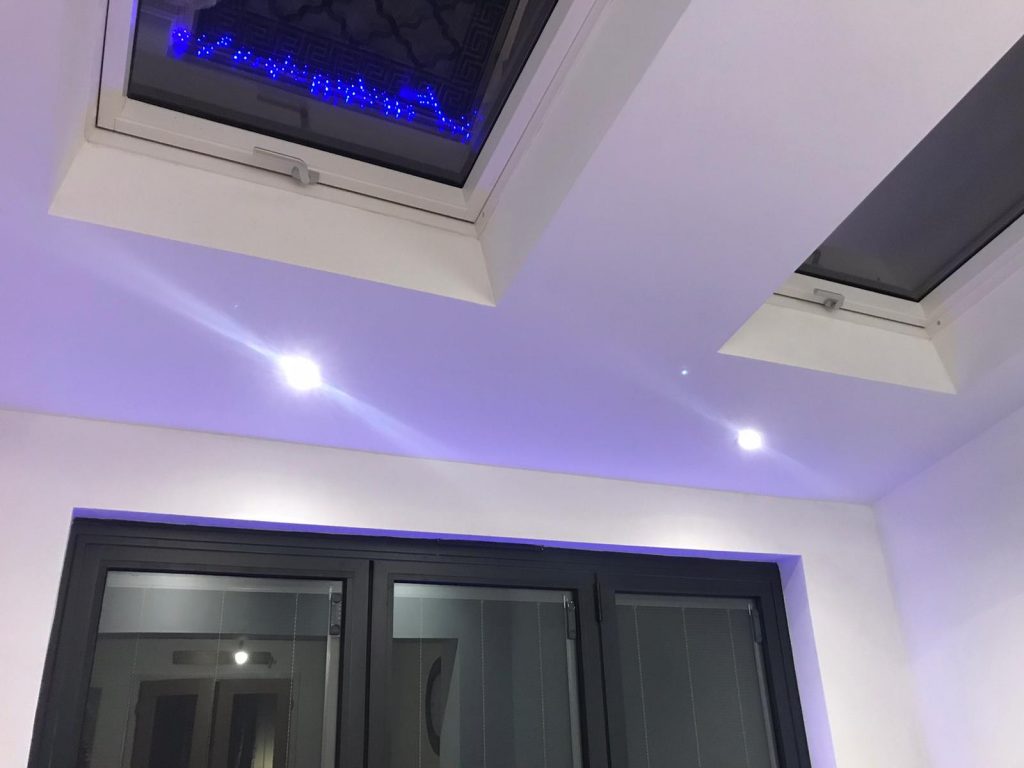 The owner of this beautiful garden room has opted for a pair of large skylights instead of a single central one, the result is a wonderfully bright and airy room, even on the most overcast of days, it also allows for a much greater circulation of fresh air when the skylights are opened.
Garden rooms that are attached to the main house are generally built of stone or brick in order to blend in, however, this is not always the case as wooden garden rooms are also a popular choice. Glass garden rooms have become very "in vogue" in recent years, also known as winter gardens, these glass rooms can be framed with either wood, metal or UPVC and they are generally quite "boxy" in shape, although they are also available with a pitched roof. The latest winter gardens have frameless walls allowing for completely uninterrupted views of the garden. Less expensive versions of these winter gardens are constructed of an aluminium frame with clear acrylic walls and a polycarbonate roof. Although they are referred to as winter gardens it is difficult to see how this type of garden room would be usable during the coldest winter months without heating, conversely this type of garden room is going to become very hot during the summer months without some form of shading from the heat of the sun, tinted glass walls would help cut down on the solar gain.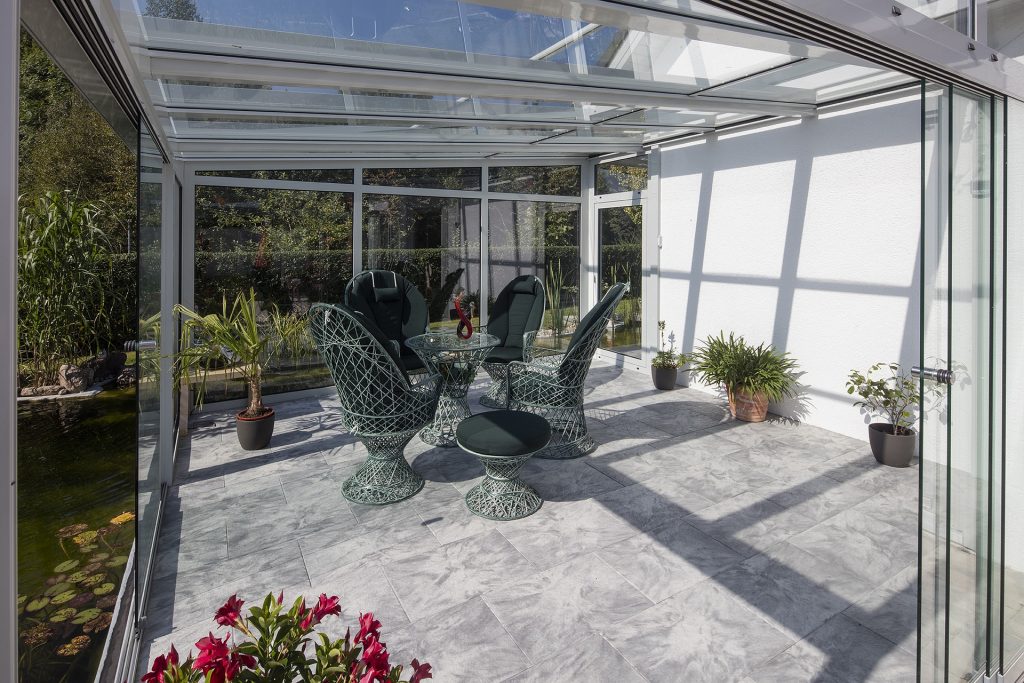 Whether you have opted for a completely glass garden room to attach to your home or a stone built version with large windows and skylights, you will probably want to investigate your options for keeping the room cool during the summer and less icy in winter. Blinds are a great way to cut down on the glare of the midsummer sun and they will also help to prevent cold air or draughts during more inclement weather; vertical, Venetian, roman and roller blinds are all popular window treatments in the UK and they can all be operated either manually or remotely. Shutters are very "on trend" right now; these can be fixed to the window with the louvres operated either remotely, by moving a blade or by winding a handle, or they can be the type that folds open and closed – this type of blind is usually found in period properties. External window shutters are often non working and only fitted for aesthetic purposes but those that actually open and close are a great way of enhancing the improvements gained from your internal window coverings. Many blinds can be operated automatically, with a timer set to control when they open or close, smart blinds operate via an app which can control some or all of the blinds in your home, even when you are away, this is a very effective security device.
Many garden rooms that are joined to the main house have double, patio or bi-folding doors leading straight onto the garden, this is a wonderful way of blurring the line between inside and out and helping to cool the garden room on hot sunny days. Consideration needs to be given to the flooring in your garden room as during the colder and wetter months you may find mud or wet grass being tracked in, or puddles of water from wellies or umbrellas, this is particularly so if you have young children or pets. Carpet is not generally recommended for a room that can open up into the garden, a hard wearing floor that can be mopped as often as needed without ruining it is the best choice, perhaps add a rug or two for the best of both worlds. Flooring types suitable for a garden room include stone, vinyl, wood, ceramic and heavy duty laminate; these are available in a huge range of colours and styles and should withstand the rigours of people and pets constantly going in and out of the garden in all weathers.