Snooker is a very popular pastime in the UK, it is actually also a sport, a cue sport – although there are some who argue that it is not a sport at all. Snooker can be played in snooker clubs, night clubs and pubs in all parts of the UK, even some hotels have a snooker table available for their guests to use. If the idea of playing snooker in clubs and pubs does not appeal to you then your only other option is to have your own snooker table at home.
Snooker tables are rather large; with a full size tournament specification table measuring 12ft x 6ft, so most homes do not have the space for a dedicated snooker room. This is why many home owners choose to build their own garden snooker room, it should be noted, however, that you will need a large garden snooker room if you are buying a full sized snooker table as you will need space around it for you to be able to play.
Garden rooms are generally considered to be permitted development which means that planning permission is not required; of course there are restrictions and limitations so it is always advisable to check with your local planning authority before making any decisions or purchases, particularly in this instance as a garden snooker room designed to house a large sized snooker table is going to take a lot of garden space, which could mean some authorities will not be prepared to grant planning permission. For information on planning click here.
As you are considering the construction of a garden snooker room we will presume that you are an avid snooker enthusiast and will concentrate upon what will be required to cater for the three most popular sizes of true snooker tables, 12 foot, 10 foot and 9 foot.
The first thing to consider for your future garden snooker room is where to position it within your garden, you will need electricity for heating and lighting so it is important to take into account that the nearer your garden room is to your main house the cheaper this will be to install. A full size snooker table is likely to weigh around one and a half tons so you will need a good strong foundation, you should also take into account when deciding where to site your garden snooker room that your snooker table will be delivered in sections and installed on site, so your supplier will need to be made aware of any steps or obstructions that may affect safe delivery.
For a full size snooker table (12ft x 6ft) using a 58" cue you will need a minimum room size of 22ft x 16ft. For a 52" cue you will need a minimum room size of 21ft x 15ft and for a 48" cue you will need a minimum room size of 20ft x 14ft.
For a 10ft x 5ft snooker table using a 58" cue you will need a minimum room size of 20ft x 15ft. For a 52" cue you will need a minimum room size of 19ft x 14ft and for a 48" cue you will need a minimum room size of 18ft x 13ft.
For a 9ft x 4½ snooker table using a 58" cue you will need a minimum room size of 19ft x 14½ft. For a 52" cue you will need a minimum room size of 18ft x 13½ft and for a 48" cue you will need a minimum room size of 17ft x 12½ft.
Having decided upon the size of your garden snooker room you will now need to think about the ceiling height because you will need to fit table lighting and this will be suspended from the ceiling, usually hanging at quite a low level over the table to light the playing area and eliminate shadows. Traditional snooker table lights hang in a row from a bar that is suspended over the table, they are usually available in rows of three four or six, to suit different size tables. A more modern version of snooker table lighting is canopy or luminaire lighting, they are lightweight and ultra bright, preventing cushion shadowing and reducing the shadowing from balls.
The type of flooring you use in your garden snooker room is important, it needs to be strong enough to bear the weight of a snooker table without bending, cracking or denting and it needs to be durable as replacing it may well also involve dismantling your snooker table. Wood block or parquet flooring, ceramic tiles, carpet or carpet tiles are all suitable types of flooring for a garden snooker room, however, you may want to consider buying extra ceramic tiles in case it becomes necessary to replace the odd one now and then due to damage caused by flying balls. Carpets and rugs should preferably be hard wearing and short piled, you may have to level your snooker table regularly as carpets tend to "give" under the weight of the table. Heavy duty carpet tiles are a perfect choice for garden snooker room flooring, they are hard wearing but still comfortable under foot and a single carpet tile is easily and quickly replaced if stained or damaged, we recommend that you buy an extra couple of boxes when you make your purchase so you will have the matching colour batch when a replacement is needed.
You will need to keep your garden snooker room warm during the colder months of the year, this is important to control the relative humidity as the slates will be affected by condensation which will make the snooker table cloth damp. It is important that your garden snooker room is well insulated with good quality insulation – this means floors, walls and roof – and that you use heating, oil filled radiators are recommended. Further information on insulation can be found here.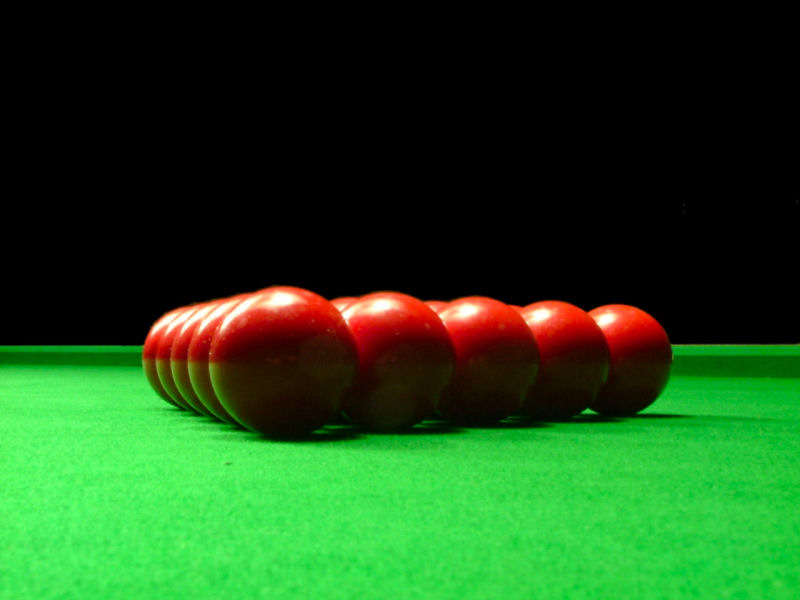 When buying a new or reconditioned snooker table from a reputable company you will generally find that they offer a delivery and installation service, although this is unlikely to be included in the list price, in fact many suppliers will insist that delivery and installation is part of the transaction due to the difficulties involved in moving such a large and heavy item and the complexities of its assembly. If they are unable to offer delivery and installation they will almost certainly be able to recommend someone to you. You should be aware that moving a snooker table can be a lengthy process, with some suppliers charging for a full day for delivery and installation.
Don't forget that you will also need to purchase the accessories required for playing snooker in your garden snooker room, although many suppliers include these with the table, others will charge for each item.
You will need:
| | | | | |
| --- | --- | --- | --- | --- |
| Full set of snooker balls | Snooker cues | | | Triangle |
| Cue rack | Cross rest | | | Spider rest |
| Long or half butt cue | Long or half butt rest | | | Brass rest hooks |
| Butt hooks | Hand marking board | | | Protective table cover |
| Chalk | Snooker table brushes | | | Snooker table iron |
Careful brushing, ironing and blocking your snooker table are all extremely important to its upkeep; we recommend that you ask your supplier for a demonstration in how to do this correctly to avoid inadvertently causing damage.
Your garden snooker room is sure to become a favourite haunt for family and friends, a place to hone your skills, an arena for competition but also somewhere to relax and unwind.