The shipping container. Love them or hate them, you cannot deny that they are solid and substantial structures, built to withstand weeks at sea and constant craning on and off container ships.
When not fulfilling the role for which they were actually constructed, shipping containers can be utilised for a variety of purposes, some examples are housing, studios, storage, office space and so on, the possibilities are endless. It should also be remembered that the recycling of shipping containers is beneficial to the environment. We will be concentrating upon the use of shipping containers as garden rooms.
Shipping containers are available in many sizes, although the most popular sizes seem to be 8ft, 10ft, 20ft and 40ft. Standard ISO (International Standards Organisation) containers are 8ft x 20ft and 8ft x 40ft.
When looking to buy a shipping container you have a range of options from which to make your choice; brand new basic container, used, refurbished, partial conversion and fully converted. A brand new container will be painted in the colour of your choice, as it is a basic container it will have no windows or any other stages of conversion. A used container may have knocks and dents, it may have areas of rust and the paint may be worn or peeling, however, it must be noted that there are various grades of "used" so it is important to check the condition before committing to purchase. As with the new container there will be no windows or converted areas. A refurbished container will have a fresh coat of paint – usually marine grade – and the interior will be tidied up, not all refurbishments include painting the interior and you may see dents or creases on the exterior. As with the new and used containers there will be no converted areas unless agreed prior to refurbishment. A partially converted shipping container will have optional windows and/or doors, perhaps even electrical fittings included to meet your requirements; it should also have a new coat of paint if required, in the colour of your choice. A fully converted shipping container will be a completely finished unit, fitted with windows, doors, partitions, internal lining, insulation, flooring, electrical fittings and more. You can buy "off the shelf" or you can order a custom version, converted to your own design, of course the customised choice will take much longer to arrive in your garden than the ready-made option.
A shipping container garden room can add valuable living space to your home; if you are not a fan of the industrial appearance of a container, or you feel that your neighbours would prefer to see a more traditional style of garden room and you would like to prevent complaints, then you can always disguise it by using cladding, your container would then appear to be constructed of wood. You can also use paint in a colour that will blend in well with the container surroundings – dark green is always a popular choice, fencing, or for a longer term disguise, you could plant a hedge.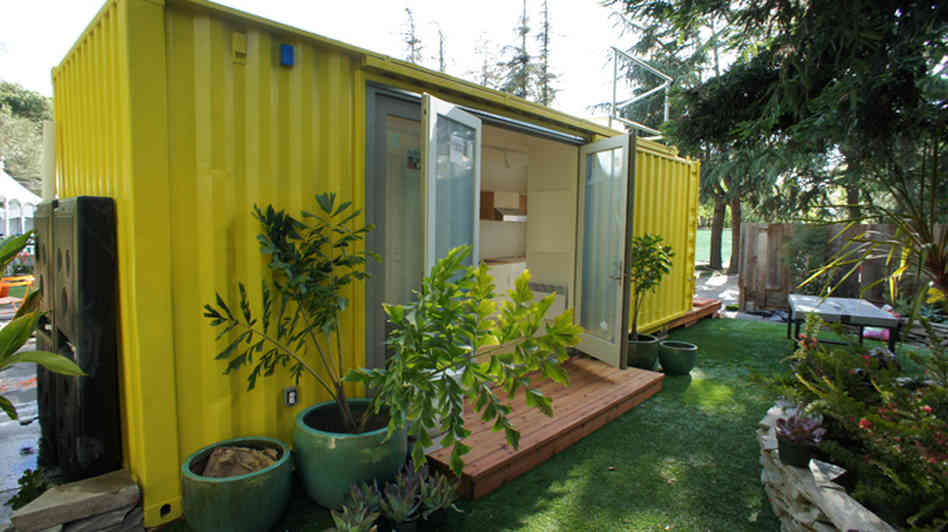 This mustard yellow shipping container garden room has certainly not been hidden away or disguised! It sits gloriously unashamed within its green surroundings and we think it looks amazing! The floor to ceiling folding doors allow natural light and fresh air inside and they are nicely enhanced by the small wooden veranda, with the mature tree close by giving shade from the sun it makes the perfect place for your morning coffee.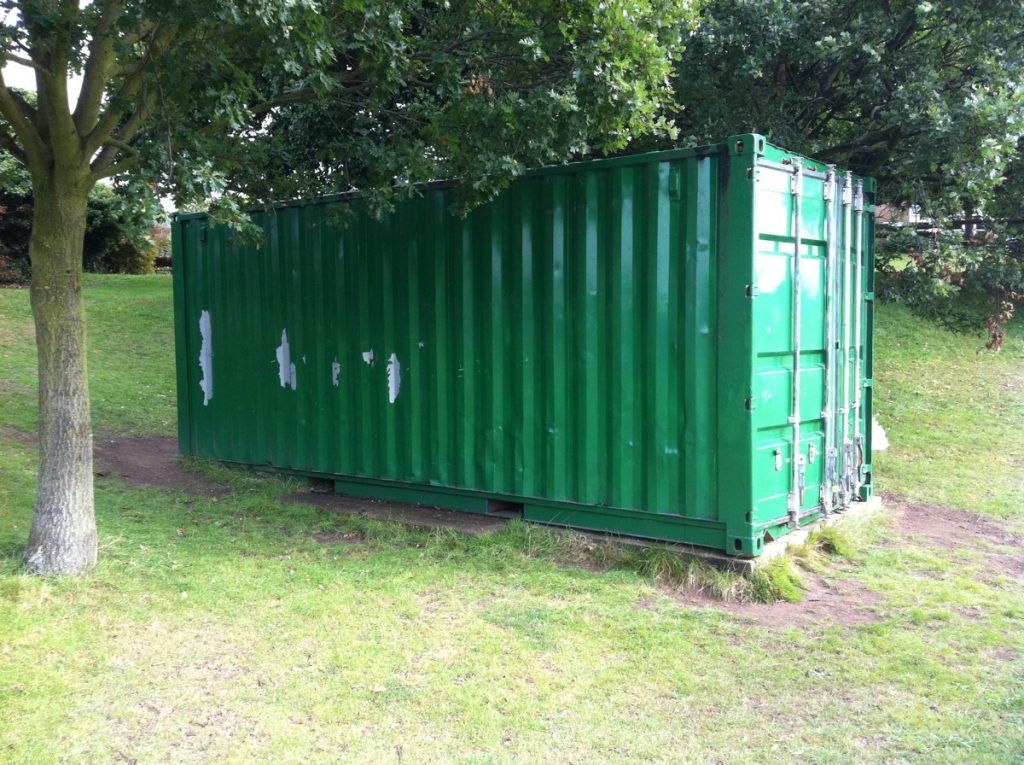 A typical used shipping container, note the dents and peeling paint, despite this the container appears to be in a good overall condition, the existing green paint would actually be a rather good colour to blend in with the surroundings of a garden.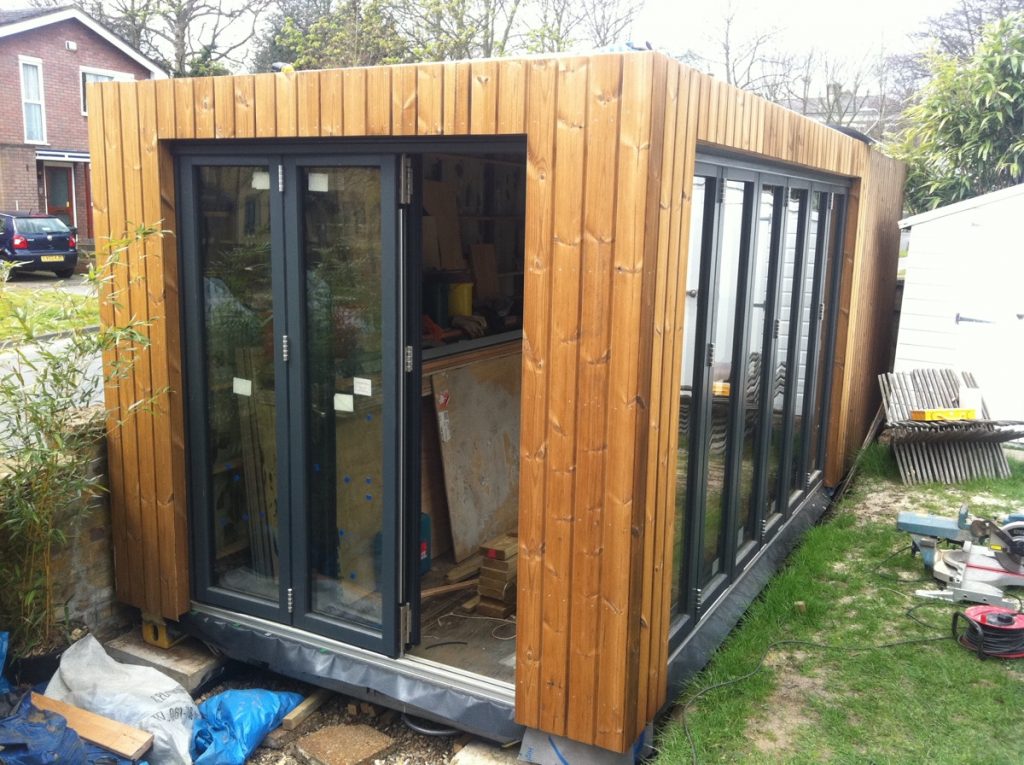 Although not yet finished, you can see that this shipping container has undergone a quite remarkable transformation into a stylish garden room. The folding doors on the front and end elevations will provide a beautifully light and airy interior and the cladding completely hides the fact that there is a container hidden within it. A very smart shipping container garden room indeed!
If you are thinking about adding a shipping container garden room to your garden you will need to consider whether you have suitable access for the large vehicles involved in delivering such a large and heavy item. Most suppliers will use a truck with a mounted crane called a Hiab, these vehicles will only operate from a hard standing and they will need to be close to where you will site your container due to the limited reach of the crane. These trucks are large in both width and length so if you live at the end of a narrow and winding lane you may not be able to arrange delivery. It may be possible to hire a crane but, once again, access may be an issue. If you have found that it is impossible for a shipping container to be delivered to your garden then perhaps you should consider the option of a flat pack container garden room, these actually look very similar to a genuine shipping container but they are much more lightweight. They are delivered in the same way as flat pack furniture, with all fittings included, each section can be carried to the garden, even through the house if necessary, assembly can then take place right where you want your container garden room to be situated. Many suppliers boast that assembly only takes an hour with just a socket set and a screwdriver. Flat pack containers are available in a variety of sizes, as they are modular you can join them together to make a larger garden room if required.
Your shipping container garden room will require a concrete base on which to sit, this is important; you cannot just place your container onto the grass. You should also consider any services that you wish to connect, such as electricity and telephone, as distance from the house may be an issue where these things are concerned.
A shipping container is broadly classed as a temporary structure where planning permission is concerned, meaning that you should not need planning approval, however, if you intend to convert your container into a garden room then it may no longer be viewed as temporary. Garden rooms themselves are generally viewed as Permitted Development so your shipping container garden room may not need planning permission under these rules. It is rather a grey area so we would recommend that you seek advice from your local planning authority before making your purchase, they will also be able to advise you where other planning restrictions may apply. Many suppliers offer a service where they will either advise on planning permission requirements or actually make planning permission applications on your behalf.