Is your garden room your peaceful haven? Good news, you can also make it an oasis by converting it into a garden swimming pool room.
A garden swimming pool room is a garden room, or an extension of your garden room, that covers a swimming pool whilst still connecting it to the outdoors. Garden swimming pool rooms may feature airy skylights or wide double-opening doors that open up to your garden.
Another type of garden pool room is a garden room that is positioned next to an outdoor swimming pool; this is used for changing into swim wear, showering after a swim, or even for entertaining guests. This type of garden pool room often includes toilet facilities and storage space.
Installing a swimming pool in your garden room is a great solution for those who want to enjoy a pool year-round but live in a climate that doesn't allow for such an indulgence. Let's discuss some pros and cons of building a garden swimming pool room.
Garden Swimming Pool Room Pros
You will have a new place to gather with family and friends.
It is a covered swimming area that protects you from the elements.
Indoor swimming pools are easier to keep temperature controlled.
Indoor swimming pools provide protection from the sun.
Garden Swimming Pool Room Cons
Pools require quite a bit of upkeep.
Most garden rooms with swimming pools won't have space for other amenities.
If not properly constructed, your garden room may become damaged with humidity.
Initially, building a garden swimming pool room costs more than building an outdoor pool.
How to Build a Garden Swimming Pool Room
The method you use for building your garden swimming pool room will depend on a few factors: If you already have a garden room, if you would like an aboveground pool, or if you want an in-ground pool.
If you want an in-ground pool, then you will need to build your garden room around it. Consequently, this option may not be ideal if you already have a garden room and do not want to undergo the hassle of deconstructing this room to build an in-ground pool.
Later, we will discuss options if you have already have a garden room that you would like to place a pool in.
Building an In-Ground Pool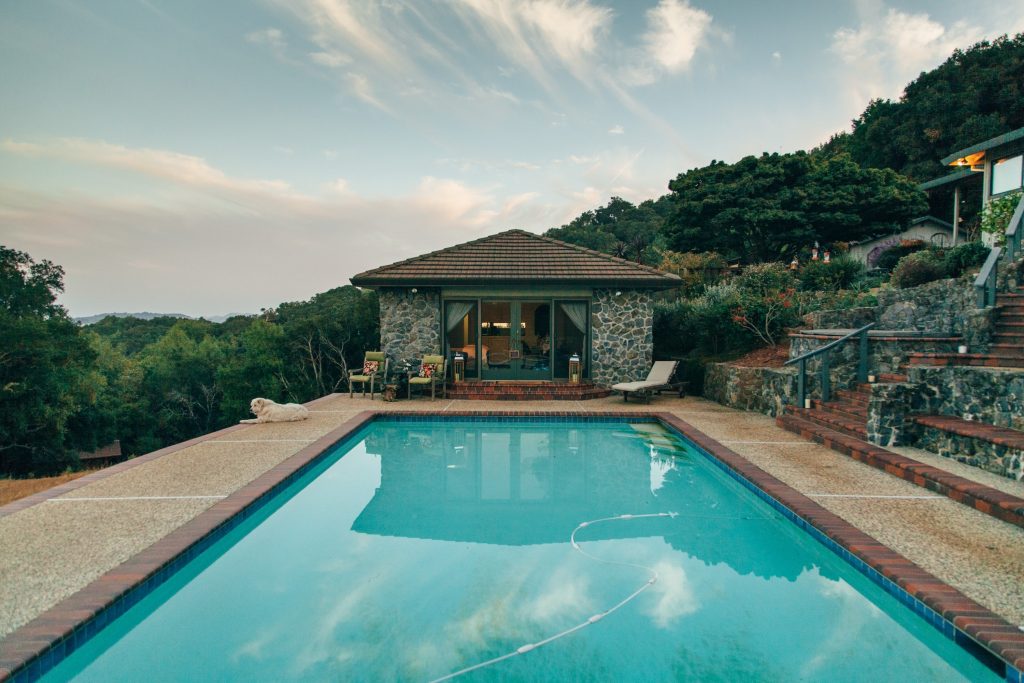 The first step to building an in-ground pool is selecting what material you would like to use for building the pool structure. Concrete allows for complete shape customisation but takes the longest to build.
Meanwhile, vinyl pools are cheap and quick to build. Vinyl pools consist of a liner that covers the excavated hole. Beware, however, that pool toys or other objects can puncture the liner and call for a costly repair.
You should choose a fiberglass pool if you want a material that is both sturdy and allows for quick installation. However, note that fiberglass pools already come in pre-molded shapes and are lowered into the excavated hole by crane. This method also requires that your garden allows space for a crane.
Before you can begin work you need to check whether planning permission is required, it is recommended that you contact your local planning authority as rules and regulations may differ depending on which part of the UK you are located.
These are the basics of constructing an in-ground pool. Contact a local expert for advice on circulation, filtration, and ventilation systems to install in your pool.
Placing an Above Ground Pool in Your Existing Garden Room
Before installing an aboveground pool in your garden room, make sure that your building has an adequate electrical supply. Most aboveground pools require a circuit breaker. A professional electrician should complete this step.
Additionally, check that there are no utilities or thick tree roots running under your garden room. Ensure that the floor of your garden room is level before beginning construction.
Your first step is to assemble the bottom wall rim along the circumference of your pool. You can bring construction materials piece by piece into the garden room. Then, lay a three-to-four-inch layer of level mason sand within the rim. This is the layer upon which your liner will rest.
Install the liner from the centre out. Your last step will be to fit the top rail. Whilst you can do these steps yourself, you should have a professional assist you with installing filters and pumps for the pool.
Garden Swimming Pool Room Styles and Features
Now that you know how to build your pool of preference, you might need some ideas for how you want to style the pool.
Did you know that garden rooms are the perfect environment for endless pools?
Endless pools deliver a continuous current that converts your pool into the optimum exercise machine. Imagine relaxing on a float whilst being rocked by gentle waves or sporting your best swimming cap as you dip above and below the current.
If you are a serious swimmer, an endless pool in your garden room can provide an excellent training environment in a smaller space.
Others who are looking for a more luxurious experience may want to install a swim spa. Think of a swim spa as a giant hot tub. It uses jets to heat up and massage the water in a pool-length enclosure.
Swim spas can be purchased pre-constructed and cost a fraction of the price to build an aboveground or in-ground pool. You can purchase a swim spa and then build a garden room around it to have the garden swimming pool room of your dreams.
Other pool features to consider include colorful lighting, small waterfall features, or an indoor shower for washing off in your garden room. Additionally, consider installing wood decking around your pool so that water can drip without damaging other floorings.
Final Thoughts
Although the summer doesn't last forever, your dreams of having the perfect pool in your garden don't have to disappear along with it.
A garden swimming pool room is the perfect solution for optimising space, convenience, and luxury in your garden room.
No matter what your garden currently looks like, there is a pool option out there that is right for your needs and budget. Don't be surprised if your friends start dropping by more often than usual. Who wouldn't want to check out your garden oasis?