A modern, well designed and built garden room is a much more complex structure than it may appear to some of us, particularly those of us who know little to nothing about the construction of buildings. Many garden rooms would have once been simply designed, rather draughty structures, probably little more than posh versions of the garden shed. This all changed after we went into lockdown and the popularity of garden rooms rocketed as we were told to work from home. Those humble, shed like garden rooms mostly became a thing of the past as the latest, well-appointed garden rooms began to appear. These attractive garden structures are generally built to a high specification, with standards upheld by the requirement of building regulations approval, or even planning permission.
Whether you are buying "off the shelf", having a bespoke designed garden room built for you or building it yourself on a DIY basis, it is vital that you research the subject thoroughly and seek as much advice as possible in order to avoid any costly oversights or mistakes.
This article is part of a series in which we will examine the use of membranes within the construction of garden rooms, never heard of this? Well, you are not alone, and yet these membranes could be crucial to avoiding moisture ingress into your garden room, moisture which could cause damp, mildew, mould, or even issues with the timber structure. Today we will take a look at the different kinds of membranes used in the external walls of your garden room, we will learn why they are used, where they are positioned and how they should be applied.
Breather Membranes
The majority of modern garden rooms in the UK are of timber construction, either built completely on site or from prefabricated panels that are delivered and assembled. Once erected, a breather membrane will be fitted to the external walls of the structure, which will then be clad with some form of weather resistant material. There are many types of external cladding available, ranging from timber to brick, vinyl and even glass. Whichever type of cladding you opt for, it is crucial to ensure that a breather membrane is installed behind it.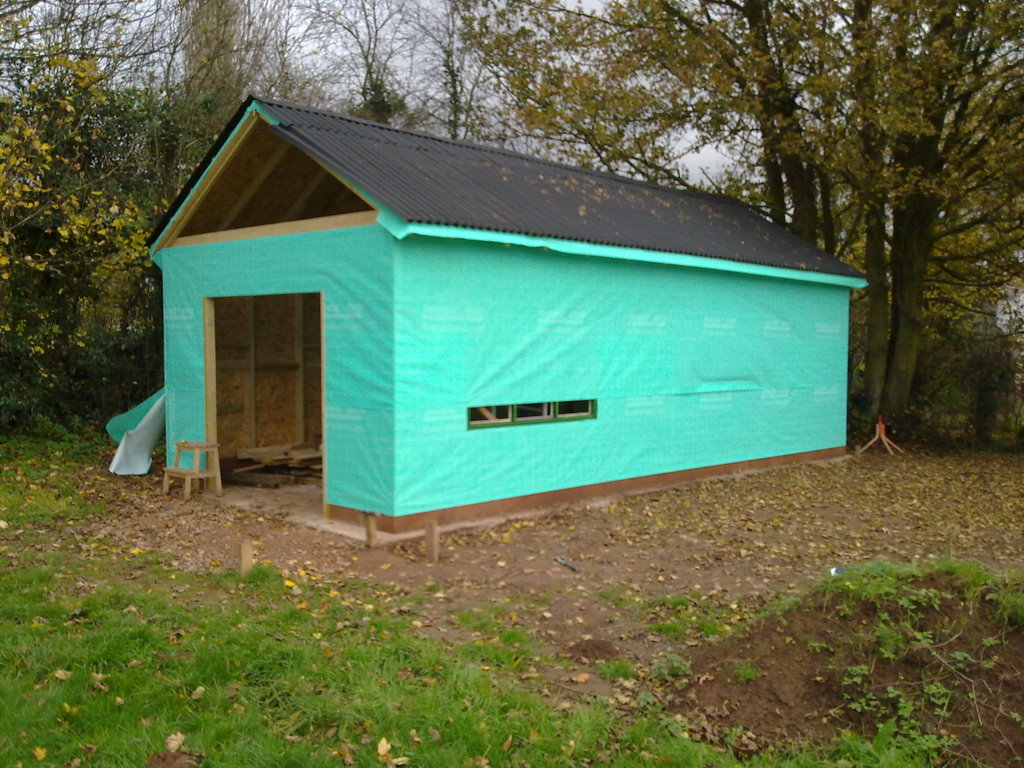 A breather membrane does exactly as its name suggests, it allows the garden room to breathe. A breather membrane prevents moisture from getting into the structure from outside, it also allows any moisture that may build up to escape. It is vital to ensure that individual sheets of membrane are lapped with a wide margin and all joints are sealed completely with tape.
The breather membrane should be fitted to the external walls of the garden room, on the outer – or cold side, of the insulation. Once fitted, the breather membrane will then be covered with the cladding of your choice. It is common for the breather membrane to be used to protect the building during construction as it can be left uncovered for extended periods without deteriorating, generally a maximum of two months. When fitting the breather membrane, it is important to read the instructions fully and make sure that you follow each step carefully. Always mark where the timber frame is so you can be sure that the nails or staples are fixed correctly and securely, it is recommended that you use galvanised stainless steel nails or staples. It is important to always ensure that there is an overlap between each length of breather membrane of at least 100mm and seal all joints with tape where instructed.
Vapour Membrane
The vapour membrane, also known as a vapour control membrane or vapour control layer (VPL), is used on the external walls and the roof of the garden room and it is positioned on the inside of the structure, on the warm side of the insulation.
Vapour membranes are required in some new builds by Building Regulations, some existing buildings may also require you to install a vapour membrane, for example, if you have areas of high humidity or if you are:
Fitting internal stud walls and insulation
Installing a new concrete floor and insulation
Modifying a roof space
We all know that condensation occurs when warm, moist air comes into contact with a cold surface, such as the droplets found on the glass of a window of a warm room when it is cold outside, this is known as surface condensation. The other type of condensation is known as interstitial condensation and this can be found within the structure of your walls and roof, on the interior, or warm side, of your insulation layer. The vapour membrane helps to reduce the risk of condensation in a garden room, this helps to prevent the risk of damp areas, mildew and mould, all of which can affect your health. If condensation is allowed to reach the insulation layer of your garden room it can cause it to become completely ineffective and it will require replacement, this will be both costly and time consuming, not to mention a major upheaval! Condensation can also cause timber to rot, resulting in structural damage.
As with the breather membrane, it is important to ensure there is an overlap between each length of vapour control membrane and that all joints are carefully sealed with tape where instructed.
It should be noted that not all garden rooms will require a vapour membrane as garden buildings are very often constructed using insulated plasterboard, structural insulated panels – which are also known as SIPs, or a similar product.
We recommend that you seek advice before the purchase or installation of any type of membrane for your garden room and always follow the instructions fully.
We trust you have enjoyed the second in our series of articles about the membranes used in garden rooms, if you missed the first, which covered the membranes found in garden room foundations, it can be found here – Everything You Need to Know About Garden Room Under Floor Membranes. Click here to read the last in the series, which is all about the membranes used in the roofs of garden rooms.