If your garden room is perfect in every way except appearance, perhaps it started life as a shipping container, was built using breeze blocks or some other not so attractive material, you may want to consider cladding it with a material that will blend in with its surroundings whilst being more aesthetically pleasing.
Most people choose timber cladding for their garden room; it is the cheapest option and can be attached to the exterior of the building more quickly that other types of cladding. We have covered some of the many types of timber cladding that is suitable for your cladded garden room.
Cedar Cladding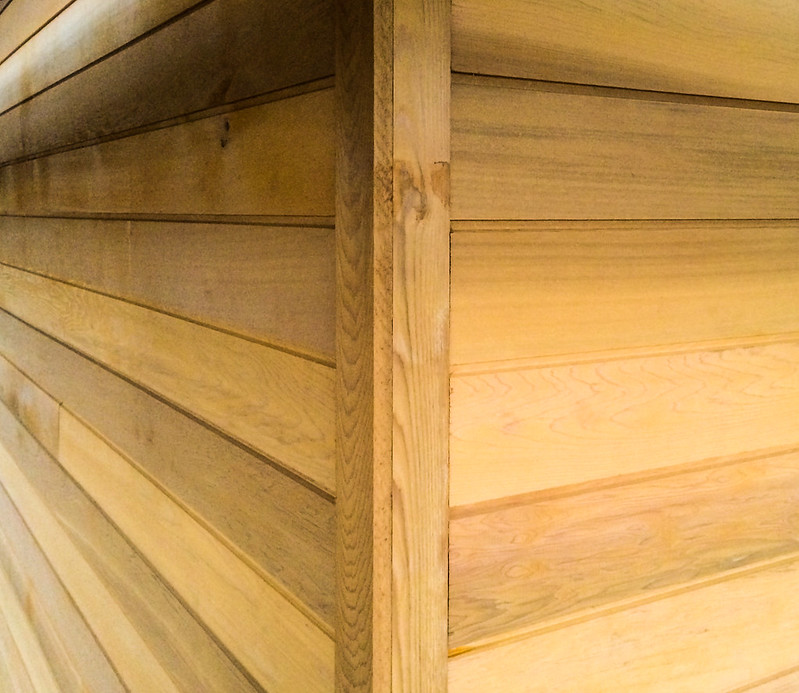 Cedar is one of the most popular types of wood used for exterior cladding in the UK; it is beautiful, stable, durable and lightweight, it is perfect for a cladded garden room.
Thuja Plicata, also known as Western red cedar, is used for exterior cladding and it is imported from Canada and North West America; it is slow grown resulting in a dense wood that is practically free of knots. Western red cedar grown in Britain is also used for exterior cladding, this is faster grown so it is not as dense and it also has more knots. British western red cedar is considerably cheaper than imported Canadian/US western red cedar; it is also a great deal more environmentally friendly where shipping is concerned.
Imported western red cedar can vary greatly in colour, from a light pinkish brown to a very dark brown; it can become patchy in appearance as it weathers naturally so this is something to take into account if you prefer your cladding to be of a uniform shade. British western red cedar is paler and more consistent in colour, it does not become patchy as it weathers, it just silvers beautifully with age. Western red cedar contains no resin which makes it perfect for staining or painting.
Cedar shingles and shakes are simply another form of cladding, these are commonly found on roofs and walls in Canada and the US but they have also been used in the UK for many years. They are durable and lightweight with natural insulating qualities; they can be used in all climates. Shingles are overlapping pieces, or tiles, of wood that are fixed to timber battens in an overlapping fashion on the roof or walls of a building. A shake is a basic form of a shingle but it is made from split logs, they are thicker and give a much more rustic appearance. Shingles or shakes would be a wonderful material for any cladded garden room.
Larch Cladding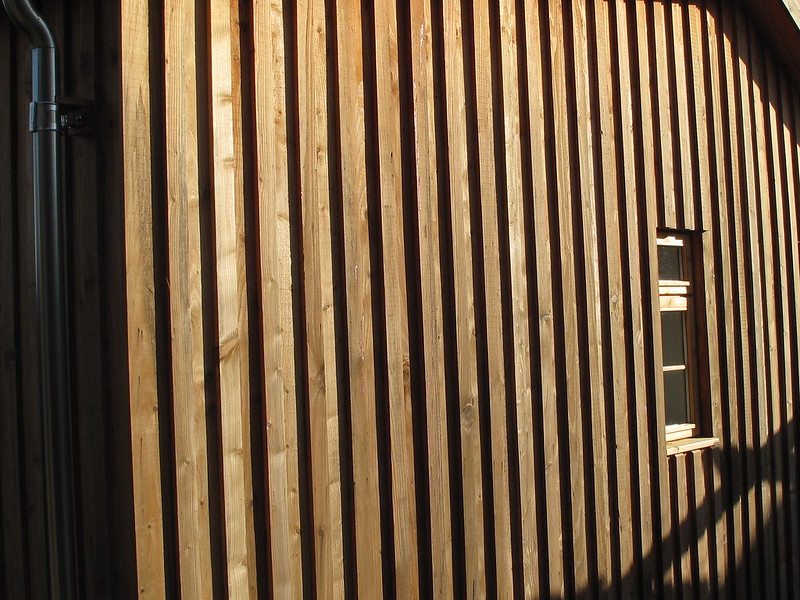 The European larch (Larix deciduas) is also known as the king of larches; it grows across the European continent and it can also be found in Britain, where it is quite widespread. Larch from northern Europe is slow grown which makes it very dense, larch from Britain has more knots as it is faster grown.
British larch cladding is suitable for buildings in exposed areas as it is tough and durable, it is also a popular choice for those cladding their garden rooms; it is a high quality cladding with a rustic appearance that becomes silvered as it weathers, it is the perfect option for anyone on a budget.
The Siberian larch (Larix sibirica) is slow grown in Russian forests, it is from the same species as the European larch but the wood is much denser and stronger due to its very slow growth, it also has a high resin content making it extremely durable. The Siberian larch is of a much higher quality than its European counterpart, which means that it is also much more expensive.
Its durability makes Siberian larch cladding suitable for exposed areas, including areas where damage such as knocks or dents may occur.
Oak Cladding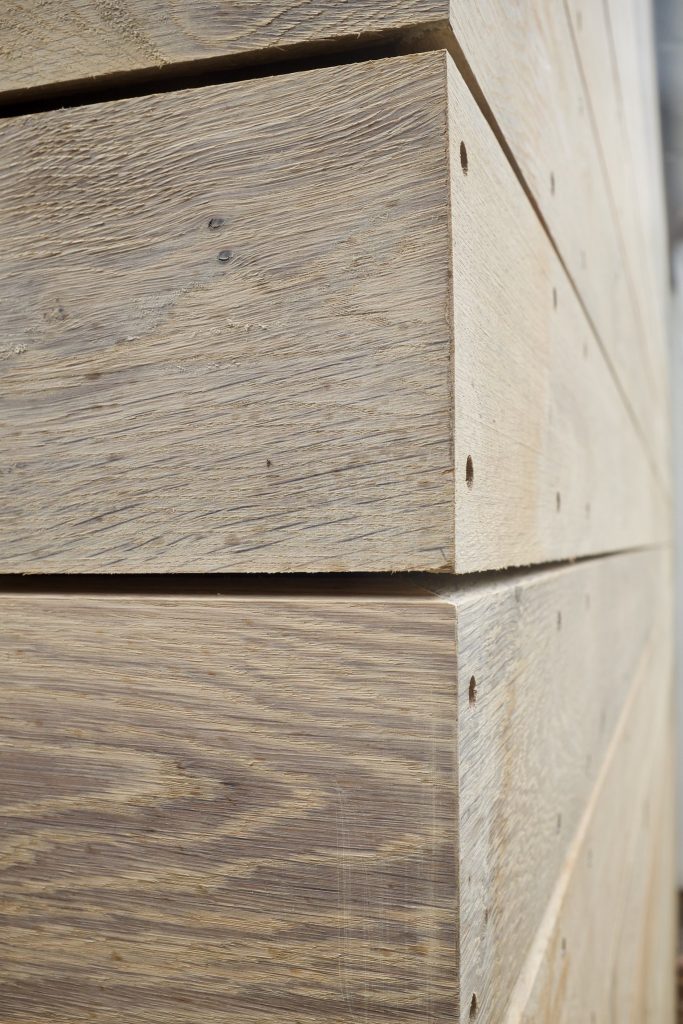 The Oak (Quercus) grows in many countries around the world; it is a very dense and heavy wood that is a popular choice for many kinds of purposes, including interior and exterior cladding.
Oak is renowned for its toughness and durability, it is prized as much for its beauty as its strength, this makes it a superb material for exterior cladding. Oak cladding is available as dry oak, in which the wood is naturally air dried or kiln dried to a moisture content of 15% – 25%, or green oak, which is also known as fresh sawn oak, this is the cheaper option. Oak cladding will weather to a beautiful silver shade if left untreated.
Tannic Acid – It should be noted that oak has a high content of tannin which corrodes ferrous metal, so it is important to use stainless steel fixings.
Sweet Chestnut Cladding
The sweet chestnut (Castanea sativa) can be found in Britain, southern Europe, northern Africa and western Asia, it is a strong and durable wood that makes it suitable for exterior cladding.
British sweet chestnut cladding is stable and hard wearing, although it is a lighter weight of wood, it is becoming increasingly popular as an alternative to oak and it is a highly suitable material for cladded garden rooms. It is of similar appearance to oak and will naturally silver as it weathers if left untreated.
Tannic Acid – As with oak, it should be noted that sweet chestnut has a high content of tannin which corrodes ferrous metal, so it is important to use stainless steel fixings.
Brimstone Cladding
Brimstone cladding is made from thermally modified ash, sycamore and poplar sourced from British woodlands. The cell structure of the wood can be changed by heating it to 210°C, this process is called thermal modification and it removes moisture and resin, resulting in a much more stable and durable cladding. Brimstone weathers evenly and is suitable for any external cladding – including cladded garden rooms, hardwood decking and garden furniture.
A cladded garden room will not only be pleasing to the eye, it will also blend beautifully with the plants and trees in your garden, enhancing your surroundings and giving pleasure to you and your family.