You want the best for your garden room; you want it to be aesthetically pleasing, comfortable and long-lasting of course, but where to start? There are multiple options to consider, including ground screws, concrete slabs, concrete strip foundations, paving slabs, plinth foundations and plastic base panels. You may wonder what the best choice is for your garden room and this guide will help you make that decision.
Ground Screws
Ground screws, also known as screw piles, are fast becoming one of the leading types of garden room base, giving a safe, stable and sturdy foundation for most sizes of garden room. This type of foundation is suitable for uneven or sloping ground, it is easy to install with usually no ground clearance carried out at all, making it perfect for those who have a busy schedule or have a deadline to meet. Another reason for the growing popularity of ground screw foundations is that they can be installed near mature trees, a particular boon to those living in conversation areas. It is a quick operation to fit ground screws, requiring only a few hours from start to finish, depending upon your contractor of course. The large screws are either driven into the ground with a specialist machine or by hand using a hand operated power tool. There is no waiting for the setting of concrete, making it a very attractive type of garden room base.
Ground Screws Can Be Installed All Year Round
A ground screw garden room base can be set up whenever you like, whether it is winter, spring, summer, or autumn, a good contractor can work in all kinds of weather so you can get the job done as quickly as possible.
You Can Say goodbye to Mess
Garden room construction can often be a messy business, with materials and equipment stored everywhere and tradesmen in and out of your property. With a ground screw foundation there is much less hassle as the ground screws can often be installed with hand power tools, this is likely to save you on time and labour costs.
Concrete Slab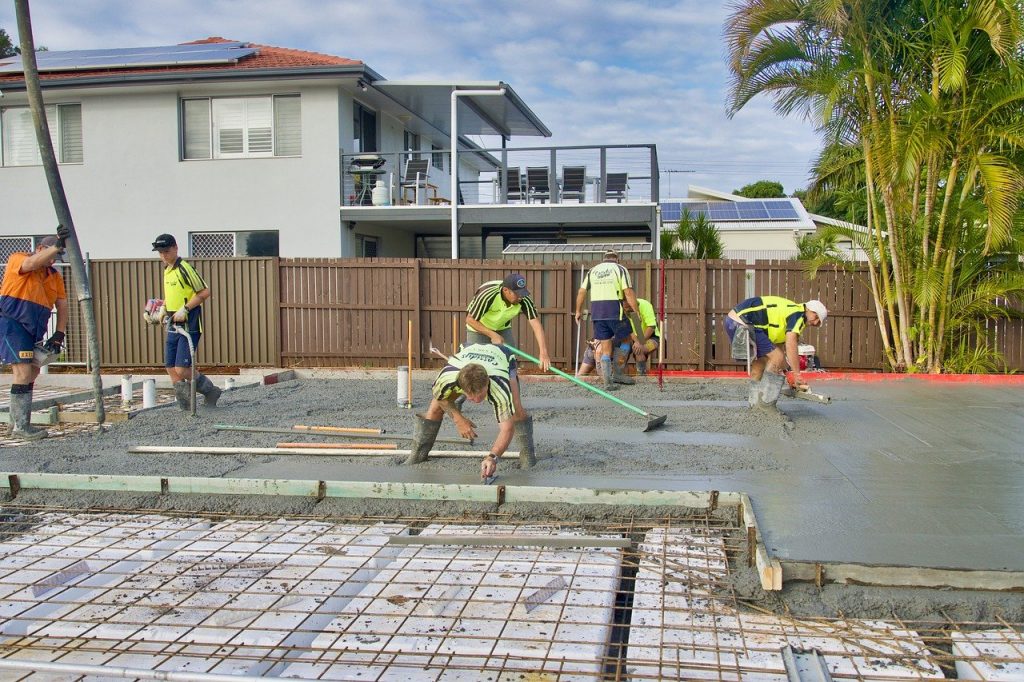 Another type of popular garden room base is a concrete slab. If you require the most solid and sturdy foundation available, you will not find anything more suitable than a concrete slab.
For the smaller types of foundation, such as for a garden room, a concrete base can work out to be quite an expensive choice but it is worth the investment. It can withstand the test of time without extensive and costly maintenance, so if you are willing to spend more, this garden room base will be your best bet.
Concrete Slabs Provide Extra Protection
Burrowing insects in a garden room can be a real problem, particularly for wooden framed garden rooms. A concrete slab is impervious to insect damage, saving you having to spend money protecting against potential infestation or the cost of repairs after any damage has been caused.
Less than a Week to Dry
A concrete slab does not require a week to dry. Within a few days, this garden room base is all set and ready for building upon. As a result, the construction can move along without too many interruptions or delays. If you are buying a modular style room then it is likely that after a week or less, your garden room can be completed and ready for you to move into.
A Concrete Slab Ensures an Effective Moisture Barrier
Too much moisture in a garden room can lead to the growth of mould, which is something nobody wants to happen. Aside from affecting your property's aesthetic value, it can pose health risks, including asthma, allergies, and itchy eyes. The waterproof properties of concrete slabs can help to protect against this.
Concrete Strip Foundations
Recognised as an alternative to a full concrete slab, concrete strip foundations are less expensive, easier to install, and lighter. It is a great choice for those who are on a budget or have a hectic schedule. Concrete strip foundations do not involve hard labour, so you will save on costs here too. This type of foundation is suitable for garden rooms of any size and design, as long as your garden is not sloped.
Stable and Strong
A concrete strip foundation is long-lasting and doesn't need constant replacement; it can withstand the test of time, making it a very cost effective choice.
Paving Slabs
Paving slabs are mostly used for driveways, patios and pathways, but another use for them is as a foundation for your garden room, conservatory or greenhouse.
Like the ground screw, concrete slab, and strip foundations, a paving slab is stable and strong, the perfect choice for a garden room base. Paving slabs are quick and easy to install and they are also generally lower in price than other types of foundation, this makes them a very popular choice for those building a garden room on a DIY basis.
Plinth Foundation
Another highly recommended garden room base is the plinth foundation. It is a durable and firm base for a garden room, summerhouse, shed and other forms of home extension. This type of foundation is basically a number of pedestals that are each built off their own concrete pad, these pedestals, or plinths, form a level surface for the garden room to be based upon. This is a great option for homeowners with a garden that is uneven or sloping.
Plastic Base Panels or Tiles
A fast way to achieve a strong and durable garden room base is to utilise interlocking plastic base panels, also known as base tiles. These panels are made from high grade recycled plastic so they are great for the more eco-conscious garden room builder. It is important to ensure that your ground is leveled before installation; you will also require a weed prevention membrane beneath the base panels and an infill of pea shingle on top. This type of foundation is probably more suitable for smaller sized garden rooms.
Before making your decision for the type of garden room foundation you will opt for, you should always take time to research and price your project, this is will help you to avoid any disappointment and costly errors.